House Demolition in Nassau County, NY 11598
3 Phases To Undergo For Home Demolition In Nassau County, NY
Home demolition is a necessary element of the renovation and reconstruction activity. Home demolition is a process of dismantling, destroying, or wrecking any old house structures that have no more use. With time, all the properties require residential services like home demolition to make space for newer construction.
In the area, at least once, we need house demolition services to dismantle and deconstruct buildings. House demolition is a complex process; it's imperative to hire an expert house demolition in Nassau County, NY.
Hiring a home demolition professional saves time and money for the homeowner by accurately and quickly conducting the home demolition.
Knowing about the process helps homeowners choose experienced demolition professionals as per their requirements. To make your house demolition process effortlessly convenient, we offer you a complete to-do guide to help you understand the minute details of the home demolition process categorized into three phases.
The complete process of home demolition can be categorized into three parts: before the start of demolition projects, during the demolition projects, and after the complete demolition projects.
Phase 1: Before The Home Demolition
This phase mainly revolves around the preparation activities required before the start of dismantling and demolition of houses. Before houses give charge to the demolition professionals, the selection of house demolition company near me in Nassau County, NY is the most crucial aspect.
Choosing the right demolition service contractor company for demolishing a home project is imperative. Demolition projects require experienced and licensed home demolition professionals for desired demolition results.
After selecting the demolition professionals as per requirement, the time comes for discussing the type of demolition and inspecting the site for proper tool selections. Once you choose an expert, it's time to discuss the demolition type you want.
At Green Island Group NY, we prioritize the safety and fencing of residential service sites before starting house demolition near me in Nassau County, NY. We fence the complete home project area with barricading to eliminate the chances of mishappening.
Phase Two: During The Demolition Project
This phase focuses on the doing aspect of the demolition project. At this time, demolition professionals start clearing items from the houses for salvage purposes. After removing the appliances and precious objects from the residential service site, demolition professionals start tearing down drywall.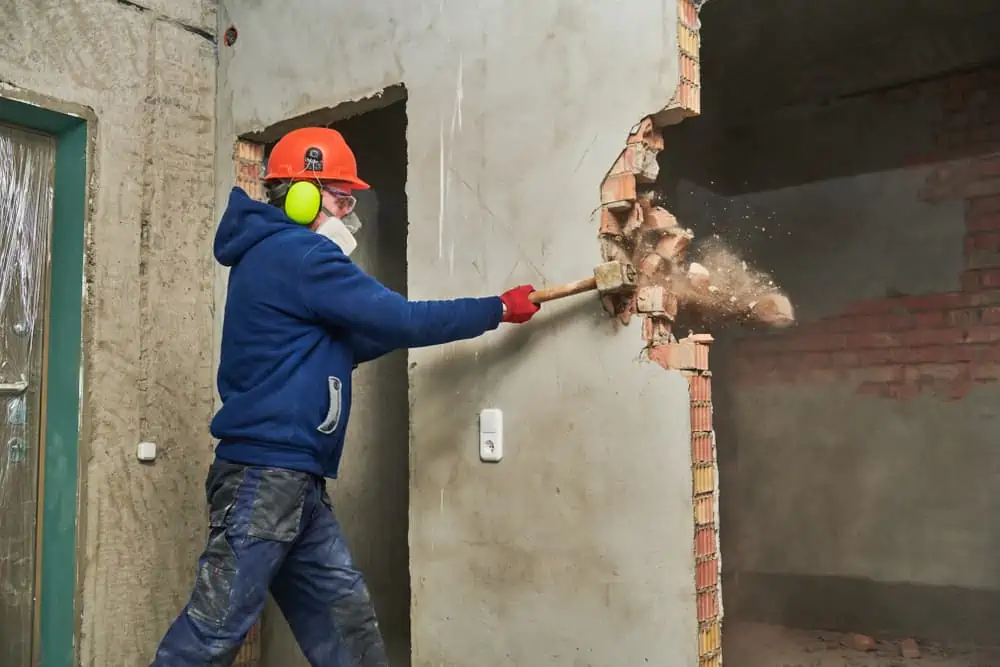 The main objective of tearing down drywall during house demolition is to get rid of asbestos and other hazardous material. At Green Island Group NY, we follow the same procedure in kitchens, baths, roofs, and siding.
Phase two is primarily considered the foremost step in demolition projects used for home demolition by experts in Nassau County, NY.
Phase Three: After The Demolition Project
This phase is concerned with the legal and documentary aspects of home demolition in Nassau County, NY.
We know home demolition is a legally bounded activity that requires the approval and certification of state governing bodies. Finally, after the demolition, documentation is done for safety records.
Are You Looking For Home Demolition Professionals In Nassau County, NY?
Green Island Group NY is one of the most trusted names in the residential home demolition service industry. We are known for our premium range of services, including flood damage restoration, mold remediation, and house demolition and dismantling services.
Choosing us over other home demolition professionals gives you many benefits as:
1) On-Time Home Project Completion: At Green Island Group NY, we are committed to performing the task of house demolition in Nassau County, NY, on the set time frame.
2) Offers Customized House Demolition Services: We believe each demolition project has its merits and requirements; we offer partial, complete, and green home demolition services in Nassau County, NY.
3) 24/7 Services: We offer our wide range of services 24/7 in the area. You can get in touch anytime to avail our home project services.
With years of experience and a highly qualified team of demolition professionals, we are always there to make your residential home projects easier to demolish & dismantle.
To avail of our home demolition services, or to get more quotation details, call us on 631-256-5711 & we will get back to you.
Directions from Nassau County, NY to Green Island Group NY
---
Here are some construction-related links: